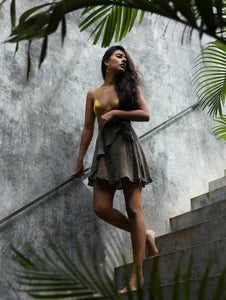 MISHA VAIDYA is a ready-to-wear womenswear brand dedicated to creating quality pieces for the modern woman: she who has the courage to be vulnerable and successful, traditional and rebellious, all while expressing her individuality with an unfiltered authenticity.

Established in London by mother-daughter team Hina and Misha Vaidya, the brand embodies a professional-girl-meets-party-girl sensibility, and reflects the idea of designing functionally refined pieces and trans-seasonal styles. Their contemporary collections echo ideals rooted in purposeful, ethical and intentional design.
Inspired by the details and intricacies of culture, people and the earth's natural beauty, the MISHA VAIDYA philosophy is that everything is connected, and that our actions directly impact ourselves, others and generations to come. Thus, always striving to create garments as beautiful as they are sustainable.
Our Values
Our Mission
To create pieces rooted in purposeful, ethical and intentional design; never at the expense of our planet or people, always with the sole intent of empowering. We believe in conscious consumption, respectful, professional relationships, sustainable design, manufacturing, and an
up-front retail experience.
Sustainability and Conscious Business:
We are a slow fashion-centric brand. We produce small runs and focus on creating quality garments, increasing the longevity of our clothing, and decreasing our impact on the environment. We source responsibly and say no to chemical processes. We use recyclable, re-usable envelopes and packaging products. Our hang tags and flyers are 100% biodegradable, 100% chlorine free, and are made with 100% recycled fibre; FSC certified and produced with wind power.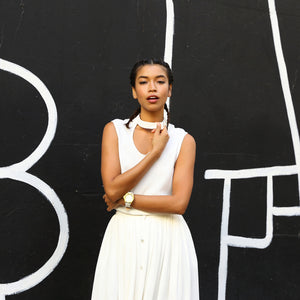 Considered Design:
We are committed to fundamental values of conscious business and considered design. All of our collections are made up of trans-seasonal styles designed to be worn year-round. From day to night, and
summer-to-winter; versatility is at the core of each piece.
Women-Centred:
Founded by women, run by women and focused on creating for women. We work with female artisans and women-owned companies, all possessing exceptional craftsmanship. Through offering female employment, we aim to further empower women professionally and economically.
"A brand to watch. MISHA VAIDYA, a ready-to-wear label, for the woman who wants it all. The brand reflects an international aesthetic, with contemporary styles that move easily from day to night, and work to play."